Why Banks Need a 'Wall Street Steve Jobs'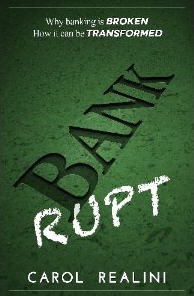 My favorite chapter in Carol Realini's new book Bankrupt: Why Banking is Broken and How It Can Be Transformed, is where she invokes the holiday classic, It's a Wonderful Life (scroll down for video clip), comparing George Bailey, played by James Stewart to banker and slumlord Henry Potter. Bailey, who runs the local building and loan, "makes an effort to see the inherent good in his fellow citizens," wrote Realini. "He works very hard at his job, because he takes the time to understand his customers and their needs." In contrast, Potter "conspires to reap only short-term profits … "In Potter's world, only the fittest survive, and to use the advantages of wealth to get more wealth is a perfectly rational way of life."
When things get tough for Bailey's building and loan, "the bank's own customers, who individually and collectively have a huge reservoir of goodwill towards their little bank, rush to save it from collapse."
Today's bankers, said Realini, "are seen as Henry F. Potters, not as George Baileys."
Out of touch and selfish
In this fast-read 166 page book, Realini paints a picture of a banking industry that is out of touch with its customers, using technology in uncreative ways, and frankly, selfish. "The bank hides behind pages of fine print. They sell credit cards that charge breathtaking interest rates. They advertise that they are friendly and community-spirited, yet the average person cannot get a mortgage and the small businessperson cannot get a loan." During the great recession, she wrote, "they figured out how to save themselves, and then how to adapt their business model to increase market share with the richest one percent."
Realini's prescription is disruption. "For banks to participate they will need to change everything; their culture, their products, their business models, and their services." That will include responding to "customer demand for good service at an affordable price" as well as the "technological changes that are reshaping our lives and businesses."
Realini should know. She is the founder and former CEO and Chairman of Obopay, a mobile payments company that works with banks, mobile phone companies and other players to provide services to the "unbanked" in both the developed and developing world. On her blog, she points out that when she was trying to help launch a new generation of banking solutions, she saw "how slowly traditional banks were embracing new models of banking, especially in the U.S." And the recent financial crisis – which could have been an opportunity for great change —  only made things worse "Sure we have new mobile interfaces from the banks – but the products are the same behind the scenes. If anything banking got worse with people having underwater mortgages and increased everyday bank fees."
Pillars of decay
Realini takes on all the big banks, including Chase, Citibank and Wells Fargo, but has special disdain for Bank of America which she says "is too often characterized by arrogance and greed; and where other big banks transgress in one or two areas, Bank of America seems determined to offend the average customer in every way possible."
In October, the Bank of America tried to impose a $5 a month fee to use its debit cards. A month later the bank dropped that plans after a backlash and the decision of two competitors, JPMorgan Chase and Wells Fargo, to drop similar fees, said Realini.
And, of course, she points out that even after accepting big government bailouts, the big banks have raised salaries for top executives while increasing fees for small depositors, and doing little to stem the rising tide of foreclosures.
Realini outlines four pillars of decay: The Decline in Customer Service; Bank Fees; Or, Death by a Thousand Paper Cuts; The Banks' Role in the Financial Crisis and The Recovery from the Great Recession.
Wall Street Steve Jobs
She contrasts the banks to technology companies – especially Apple –where Steve Jobs took a $1 a year salary when he returned to the near bankrupt company in 1997 to rebuild it into what is now the world's most valuable corporation. His focus, wrote Realini "was solely on saving the company and making Apple great again."
Apple had forgotten about "giving customers incredible products that made their lives better." Jobs' "genius was that he was able to, in the face of the crisis; bring back that culture to Apple. He reinvented Apple by reinstating the original values of the company. Bank of America founder A.P. Giannini had a similar vision, "He started the Bank of Italy in San Francisco in 1904 because he saw that hard working immigrants were not being served," by existing banks. Most of us don't remember Giannini, but we do remember Apple's founder. "Banks need a Wall Street Steve Jobs," wrote Realini.
Even in the financial industry, there are some bright spots, said Realini. These include some small regional banks and credit unions along with innovative companies like Paypal, Walmart's use of prepaid cards and USAA, the San Antonio-based company that provides services to military families which was one of the first to offer mobile remote deposits.
Redefining banking
Realini does more than diagnose the problem. She also writes a prescription for "redefining banking" that includes reminding the industry that it's a service business, "not about personal and institutional greed, risk avoidance, personal careers." She also calls for rethinking the business model and taking a cue from Apple and other mobile companies that encourage partnerships and cooperation, "Banks spend too much on proprietary infrastructure that is increasingly rigid. And yet some simple but powerful opportunities, like simpler account structures or small depositor products, are left untouched." She wants to see lower cost approaches and new business models including a change in the "last mile" of service delivery by allowing customers to make deposits and do other transactions not just as ATMs but at locations inside retail stores. "Why not get banking from other trusted places. Let's create more competition by letting retailers, telecom operators, and independent trusted companies offer us banking services."
She wants to see the end of paper checks (which it seems is inevitable anyway) and even an end to paper cash and she also wants to do away with the balkanization of regulation by having a single national regulator instead of 50 state regulators.
Scene from It's a Wonderful Life
Where George Bailey (James Stewart) pleads with depositors not to foreclose on their neighbors (22 seconds)
Disclosure: Carol Realini's son and my daughter were married to each other  from 2008 to 2010. There are currently no financial relationships between any member of either family.