Using Netflix Parental Controls
Netflix has become a popular video streaming service for millions of families but some of the content may be unsuitable for some members of your family.
As J.D. Biesdorfer wrote in the New York Times, Netflix offers parental controls that allow you to restrict certain types of content and also change the interface so that  your child can only view programs that Netflix considers to be age-appropriate.  You can control this content from your Netflix web account and it applies to most (but not all) places where a person might access their account including the web, some set-top boxes, PS3, Xbox 360 and Apple TV, some blu-ray players and Apple devices running iOS 5 or later.  Click here for details.
Before you can restrict content for a family member, you first need to set up a profile for that person.  You do that by:
1. Selecting Manage Profiles from the drop down account menu at upper right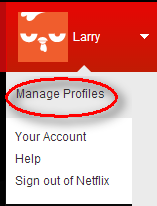 2. Select Add Profile

If the person is under 12, check the appropriate box.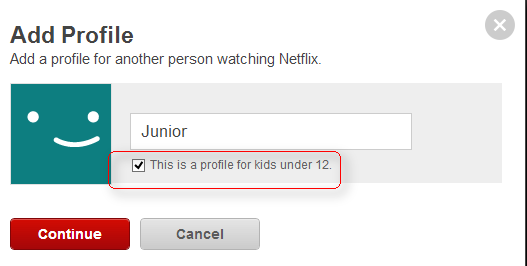 Once profiles have been created you can also set or change parental controls.
1. Log into the account you want to manage and select  Your account
2. Click on Parental control settings and select the level you wish to use for that person. Check to see if you're logged into the correct profile you wish to change (highlighted in this example)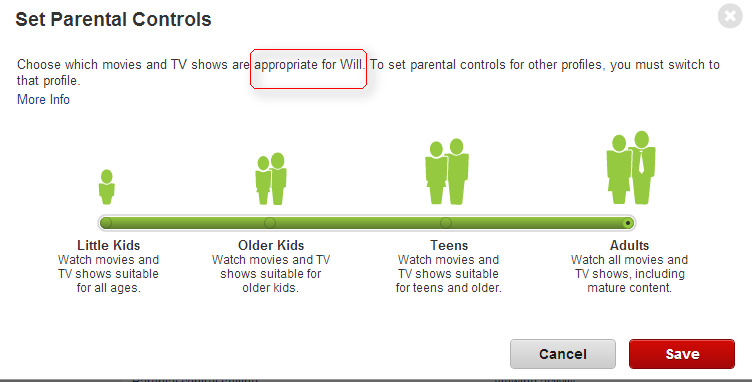 Of course, if your child has access to the password he or she can change the settings and, as with all parental controls, technological limits are no substitute for parenting. Talk with your kids, watch videos with your kids and try to develop good media habits together as a family.