Sprint's Epic 4G Android Phone Raises the Bar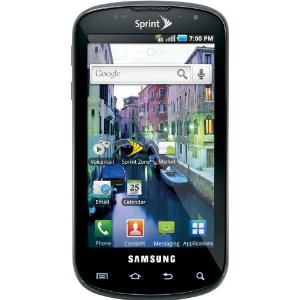 Sprint's Epic 4G from Samsung stands out from the competition as one of the best Android phones on the market.
The first thing you notice is the stunning 4 inch AMOLED display and the extra vibrant icons at the bottom of the screen for Phone, Contacts, Messaging and Applications. You can't see the 1GHz Samsung "Hummingbird" processor but you will appreciate how it quickly loads applications.
At first glance you may not notice that the device has a slide-out physical keyboard because it adds very little bulk to the phone. The Epic's dimensions are : 4.9 inches 2.54 inches x 0.56 inches making it barely thicker than some Android phones that don't have physical keyboards. Although I once thought I'd never prefer a touch screen to a physical keyboard, I rarely find myself using the physical keyboards on Android phones but as cell phone keyboards go, it's quite good. It even has the standard Android Home, Menu, Back and Search keys.
The phone has a nicer feel to it than the Motorola Droid with rounded edges, reminiscent of the iPhone 3G and 3GS.
Interface Customization
Samsung, like most Android phone makers, has added its own user interface which it calls TouchWiz 3.0. Unlike HTC's Sense interface, Samsung took a relatively light touch by not dramatically changing the standard Android which those of us who go from phone to phone greatly appreciate. They did add some widgets such as Buddies Now which is sort like favorites for instantly being able to call or text someone.
There are a couple of small changes to the Android interface but most won't slow down experienced Android users. One thing I did find annoying is that to unlock the phone each time you use it you have to drag a circle in the middle of the screen up. Nothing terrible about that but it's different than the standard Android unlock gesture.
Personally I wish that Android phone makers would just stick to the standard Android interface or, if they must make a change, allow users to turn off the eye candy and revert back to the standard interface.
The phone comes with Android 2.1 but Sprint is likely to push an upgrade to 2.2 relatively soon.
There is both a 5 megapixel rear and a VGA quality front-facing camera. The front facing camera can be used to take a picture of yourself or use for a video conference call.
The Epic 4G comes with the Swype keyboard interface that allows you to type words by sliding your finger from letter to letter without taking it off the glass. Some people swear by Swype and others swear at it. I do find that it can speed up my typing a bit but I still prefer pecking at the keyboard. The good news is that Swype can easily be disabled and you have the choice of the Swype keyboard and the standard Android keyboard.


Swype Interface Let Your Type by Sliding Fingers
The phone comes with a 16 gigabyte microSDHC card. Although it doesn't come with a slick PC client like iTunes, it is very easy to connect the device to a PC or Mac USB port and drag and drop songs to the memory card. One the music is on the phone the experience is just as good as an iPhone with and easy to navigate music interface that even shows album art. Although most people will listen with earphones, the phone's internal speaker is surprisingly good and loud enough to fill a small room.
The call quality was good for both incoming and outgoing calls. Like all Android phones, there are some user-interface issues when it comes to calls. I have found myself accidentally answering the phone by touching the screen in the wrong place when reaching for it in a pocket. I've also done a little bit of pocket dialing. One thing I don't like about this and many Android phones is that there is no dedicated physical Phone key. There is a clear icon for it but I would like to be able to make and hang up a call by pressing physical key that's always accessible.
I tested the phone in Seattle and the San Francisco Bay Area which are 3G but not 4G zones. Sprint is in the process of rolling out 4G nationwide but it's currently available in fewer than 40 markets. Still, it works well in 3G areas too.
On cool feature on this and a growing number of Android phones is the ability to use them to create a WiFi hotspot to provide Internet access to a PC, iPad or any other device. I find that extremely useful but it does add to the monthly cost of using the phone.
By Android standards battery life is good. By turning off WiFi and GPS and using it in 3G (not 4G) mode, I was able to get through most full days on a single charge which is more than I can say for Sprint's other 4G phone, the HTC Evo.
My biggest complaint about the phone is that the power button is set back a bit on the right side of the phone and exactly the same (black) color as the rest of the phone, making it a bit harder to see and press than with the typical placement at the top of the phone.
Cost and Availability
Sprint's unlimited service called "Simply Everything" is $110 a month which is $10 more than 3G phones. Unfortunately, you pay that $10 even if you never use the phone in a 4G market. And if you want to use the phone to create a WiFi hotspot, it will cost an extra $30 a month. The phone itself will cost $250 which is $50 more than most other smart phones. The phone will be available on August 31th.