Remembering Patrick McGovern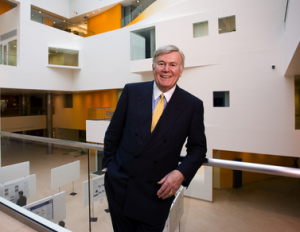 Patrick McGovern 1939-2014 (Photo by Jason Grow, courtesy IDG)
The technology world  suffered a loss this week with the passing of Patrick McGovern.  In 1964 – long before most people knew anything about computers – he founded International Data Corporation to provide the young industry with market research and 3 years later he launched ComputerWorld, an early trade newspaper for computer users.
McGovern also made the transition to personal computers with the launch of InfoWorld, PC World,  MacWorld and many other publications that helped inform computer users long before it was possible to go online to get help and advice.
In 1980 McGovern launched one of the first joint ventures between a U.S. company and China and in 2000, MIT created the McGovern Institute for Brain Research, with a $350 million contribution from McGovern and his wife, Lore Harp McGovern.
Pat made a huge contribution to the worlds of technology, research and publishing and was loved by many who knew him, including the people who wrote for his publications. He would personally hand out bonuses to the employees in his far-flung empire of magazines and newspapers and would always remember something about what each person had contributed.
Here is his full biography
Personal note
On a personal note, Pat touched my life. I wrote for InfoWorld and was a contributing editor of PCWorld during its first year and when I would run into Pat he would always have an encouraging word. He read the publications he owned and reached out to the people who wrote for them.
In 1983 Pat — through his venture capital fund  helped me launch Know How, one of the first computer training companies. His wife, Lore Harp McGovern chaired our board of directors.
In 1999 Pat inducted me as a Smithsonian Laureate in recognition of my Internet safety work and websites SafeKids.com and SafeTeens.com — an honor I will always treasure.
[soundcloud url="https://api.soundcloud.com/tracks/140561388″ params="color=ff5500&auto_play=false&hide_related=false&show_artwork=true" width="100%" height="166″ iframe="true" /]