Hands-On with Google Drive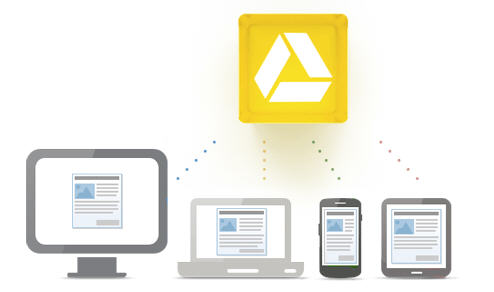 Google has launched a cloud-based storage service called Google Drive that competes with Dropbox, Sugarsync and other cloud storage systems to offer both free and paid storage that synchronizes with PCs and Macs.
When you sign-up for the service, you are invited to install software on a PC or a Mac that creates a special folder on your machine. Any files placed in that folder are automatically copied to Google's servers so that you can access them online or on any machine that's connected to your account. So, when I place a file in my Google Drive folder on my Windows PC, it's also available on my Mac or on my Google Drive web page.
Google Drive is also the new name for Google Docs — a service which, for years, has allowed people to create, edit, store and share documents, spreadsheets and presentations along with forms and drawings.  Now the files that you place in your Google Drive folder on your PC or Mac are stored alongside any files you create in what used to be called Google Docs.
What that means is that the files are accessible on devices and online. With some file types, like Microsoft Word and JPG images, you can view or edit them from the web using Google's cloud-based editing tools. But you can download any type of file to any PC or Mac that you use to access your Google Drive account so, for example, if you're visiting a friend you could grab a file from the web and access it on his or her PC or Mac.
Signing Up
You sign up for Google Drive at drive.google.com and logging in with your Google account, but you may not get access right away. Some users are being asked to click a Notify Me link and will get an email once it's "ready."
Pricing & Competition
With Google Drive, everyone gets 5 free gigabytes of storage (Dropbox gives you 2 free GB) and you can purchase 25 GB of storage for $2.49 a month or 100 GB for $4.99 a month and, if you're really a data hog, you can buy storage by the terabyte ($49.99 a month for 1 TB up to $799.99 for 16 TB).  A terabyte is 1,000 gigabytes. These prices are considerably less than Dropbox, but I'm sure the Dropbox folks are re-thinking their current prices. Sugarsync also provides 5 free GB with prices for additional storage ranging from $49.99 a year for 30 GB to $399.99 for 500 GB. One difference between SugarSync and both Google Drive and Dropbox is that SugarSync can synchronize any folders on a PC or a Mac. All of these services support Android and Apple's iOS (though Google's iOS app isn't quite ready)
Syncs and Links
After installing the Google Drive software to my PC and Mac, the first thing I noticed were that all of my existing Google Docs and spreadsheets appeared to be available on my machines' hard drives, but I then realized that these were actually links, not the actual files. When I clicked on them I was taken to the web site of what used to be Google Docs (now Google Drive) where I could view and edit them. This works fine if you're online but won't work if you don't have an Internet connection. PC or Mac files that you save to or drag to the Google Drive folder on your machine, however, are synced to the cloud and to other devices so you can edit the files regardless of whether you have Internet access.
Within a few minutes I was productively using Google Drive. I simply copied and saved files to the new Google Drive folder on both my PC and Mac and and soon found these same files on the other machine and on the web site. For all practical purposes, the process was very close to my experience with Dropbox.