Google to Kill iGoogle, Google Video and Other Products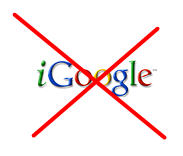 It was a pretty big deal when Google announced iGoogle in 2005 but times they are a changing. Today Google announced that it will "retire" iGoogle along with four other products: the Google Mini, Google Talk Chatback, Google Video and its Symbian Search app.
iGoogle isn't biting the dust quite yet. It will continue until November 1,2013 to give users "16 months to adjust or export their data."
Seven years ago iGoogle was the company's most promising way to deliver users a personalized web experience by creating a default Google page that includes a Google search box along with your latest Gmail messages, headlines from Google News on subjects of interest, local weather forecasts, stock quotes, movie times and your bookmarks.
In a blog post, the company said that iGoogle was created " before anyone could fully imagine the ways that today's web and mobile apps would put personalized, real-time information at your fingertips." Now, said Google, we have " modern apps that run on platforms like Chrome and Android"  so "the need for iGoogle has eroded over time." What Google didn't mention is that tracking cookies provide even more ways to personalize your experiences, especially the ads you see.
Google Mini, which brings "Google-quality" search to enterprise servers, will be discontinued on July 31st. Google is promoting alternatives including its Google Search Appliance, Google Site Search and Google Commerce Search.
Google Video has been in a coma since the company acquired YouTube in 2006.  The service stopped accepting uploads in 2009 and those who still have videos there are being encouraged to migrate them to YouTube.
Google Talk Chatback enabled web master to allow users to chat with them from the site but Google recently acquired Meebo which provides this functionality though Meebo Bar.
Disclosure: I'm co-director of ConnectSafely.org, a non-profit Internet safety organization that receives financial support from Google.