Samsung and Sprint 'Try Harder' With Galaxy S6 and improved network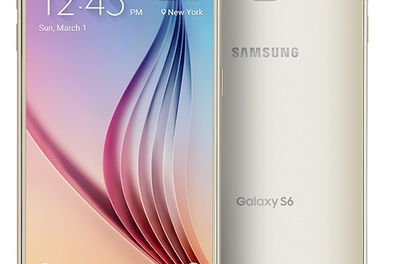 For five decades, Avis used the advertising slogan "We Try Harder" to promote how the car rental company went out of its way to compete with the industry leader.
The slogan was retired in 2012 but maybe Avis should consider turning it over to Samsung and Sprint.
Great strides
In the United States smartphone market, Samsung is #2 behind Apple and, when it comes to carriers, AT&T and Verizon duke it out for the number one spot while Sprint holds on to third place, with T-Mobile nipping at its heels. Based on what I'm experiencing from the Galaxy S6 that Sprint loaned me, both companies are making great strides.
Others have reviewed the Galaxy S6, so I'll be brief. It's slick and attractive enough to take the smug look off the face of any iPhone 6 user (to be fair, only a tiny percentage of iPhone users are smug about their phone) and it's packed with enough power and features to satisfy the pickiest of cell phone aficionados.
Like the iPhone 6 and 6 Plus, there are two versions of the S6. The basic one and the Edge. I tested the basic one but – for those willing to spend an extra $100, you can get the same features and nearly the same specifications as the S6 with a curved 5.1 inch 1440 x 2560 pixel screen instead of a flat one. As my fellow Forbes contributor Gordon Kelly pointed out in his comparison of the two phones, the Edge "simply looks cooler" and has "no bezel on either side and this makes it slightly thinner than the Galaxy S6." There's also a little more functionality as it comes to "information stream," but click on over to Kelly's review if you want details.
Samsung's software diet
But as far as the S6 is concerned, Samsung's "Try Harder," includes getting rid of some of the bulky software that slowed down earlier Galaxy phones and made the interface unnecessarily different from basic Android. That, of course, frustrates reviewers like me who change smartphones as often as some folks change socks, but those differences– in my opinion – never really improved on the user experience. The compulsion of Samsung and other phone makers to "improve" on Google's basic Android user interface reminds me of how PC makers used to provide alternative ways to use Microsoft Windows, which resulted mostly in confusion and frustration, especially for customers who switched from another brand PC.
Samsung also crafted a beautiful phone built with glass on both sides. It's thin (0.27 inch) and weighs in at only 4.65 ounces. It has almost the same dimensions as the iPhone 6 and is only an imperceptible .10 ounce heavier. The 5.1 inch display is a good compromise between the too small (4.7 inch) iPhone 6 and the too big 6 Plus (5.5 inch). Actually what bothers me about the 6 Plus isn't the screen size but the giant space wasting bezel.The phone has a 2550 mAh Lithium Ion Battery which, so far, is easily getting me through a day's usage.
My only complaint about the phone is that it's a bit too slippery. I've already dropped it a couple of times but, so far, that Gorilla Glass 4 remains uncracked. Because of this, a case is a mandatory accessory for the S6.
Sprint
A phone is only as good as the network it runs on and, prior to getting this phone, I was biased in favor of AT&T and Verizon. The AT&T Nexus 6 I own gives me terrific service but it doesn't hurt that there's a cell tower on a utility poll four houses from where I live. Until about a year ago I was a Sprint customer but I left when my contract experienced because – at the time – its LTE network was slow near my house and non-existent many places I travelled and even the call quality was marginal too much of the time.
But Sprint has been trying harder and has rolled out LTE in the San Francisco Bay Area and many other areas and, so far, I have nothing but praise for the way the phone is performing on Sprint's network. I've had no dropped calls and I'm getting lightening fast LTE data. Like T-Mobile, Sprint is also shaking up cell phone pricing. The company is running a promotion where it claims it will cut your AT&T or Verizon bill in half and pay off your contract to entice you to switch.. You can finance a 32 GB Galaxy S6 for $20 a month but you get that $20 a month back if you sign up for the Spring Unlimited Plus plan. You can also purchase it for $199 on-contract. That unlimited Plus plan costs $80 a month and comes with unlimited data, talk and text and very low cost International roaming – making it a great deal if you travel to the countries supported in this plan. There are, of course, other available plans including family share plans.
Best carrier and plan depends on your situation
The phone carrier and plan that's best for you depends on your data needs plus where you live and where you go. All cell companies have dead spots, weak spots and slow spots. And while AT&T and Verizon have more robust networks, Sprint is catching up. Knowing whether it's worth it to go for an unlimited data plan can be a tough decision. Unless you plan to stream a lot of video while you're away from WiFi, you might be able to get away with less than you think. But before you decide, make sure you know your options and what might happen if you go over your limit. Sometimes it's better to go with a higher plan at first and then downgrade in a month or so after you establish your usage patterns.
Page 2 / 2