Fake News: How to avoid spreading hoaxes on social media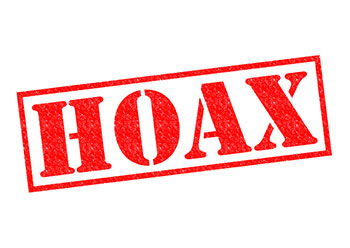 There have been numerous stories in the wake of the election about fake news. Although it's hard to know how much impact it had, there are some who claim that fake news on Facebook and stories linked from Google could have affected the election outcome. This post is adopted from one that first appeared on Forbes.com in September 2015, but is updated for the post election period.
Election update:
As I followed election news on Facebook and other social media platforms, I saw a lot of opinions and plenty of links to legitimate news stories about the candidates. But I also saw stories that were simply untrue — like one that claimed that Pope Francis had endorsed Donald Trump and another claiming that FBI agent suspected in Hillary Clinton email leaks was found dead. These were hoaxes, but some people believed them.
Investigate before sharing
About a year ago I wrote about other hoaxes on Facebook and advised people not to fall for hoaxes and not to spread anything that you can't verify.  If you see something on social media that you're tempted to share, investigate before you do. Anything you post is coming from you, which means you're responsible for it being accurate, even if you got it from somewhere else. And don't feel too bad if you've ever done this. I'm amazed at how many smart people I know who have pasted false rumors into their Facebook profiles. Now it's time for all of us to take responsibility and verify before spreading what see online.
Here's an example that has nothing to do with electoral poltics:
Now it's official! It has been published in the media. Facebook has just released the entry price: $5.99 to keep the subscription of your status to be set to "private". If you paste this message on your page, it will be offered free (paste not share) if not tomorrow, all your posts can become public. Even the messages that have been deleted or the photos not allowed. After all, it does not cost anything for a simple copy and paste
 Critical thinking and search can debunk hoaxes
A little bit of critical thinking can go a long way. If you see anything that looks like might might not be true, spend a couple of minutes doing some research before passing it on. It's easy and you'll feel better knowing that you're helping to debunk a myth. It's also good media literacy so share this with your colleagues, friends and especially your kids.
It's not usually difficult to verify or debunk a rumor. In most cases all you have to do is highlight part of the text in a browser, right click and select search to have a search engine look for any web references to the text. If it's a known hoax, you'll find something on Snopes.com or another rumor site to prove that it's false.
 Another variation of this hoax is as follows and it's equally false as well as absurd. The whole purpose of Facebook is to help you share what you post so if you don't want Facebook to "disclose" or "distribute" anything, don't post it because that's exactly what Facebook is designed to do — help us disclose and distribute our posts.
As of September 28th , 2015 at 10:50p.m. Eastern standard time, I do not give Facebook or any entities associated with Facebook permission to use my pictures, information, or posts, both past and future. By this statement, I give notice to Facebook it is strictly forbidden to disclose, copy, distribute, or take any other action against me based on this profile and/or its contents. The content of this profile is private and confidential information. The violation of privacy can be punished by law (UCC 1-308- 1 1 308-103 and the Rome Statute). NOTE: Facebook is now a public entity. All members must post a note like this. If you prefer, you can copy and paste this version. If you do not publish a statement at least once it will be tactically allowing the use of your photos, as well as the information contained in the profile status updates.
Bill Gates is not giving you $5,000
As Snopes.com pointed out here, these posts are derivations of rumors that have been circulating for years. And they're not alone. There are hundreds of other false claims about people, politicians, companies and governments. No, the post office is not planning to impose a 5 cent tax on email. And Bill Gates is not giving away $5,000 to anyone who shares this picture. It would be nice, but it's not going to happen.