Essential — a minimalist elegantly designed smartphone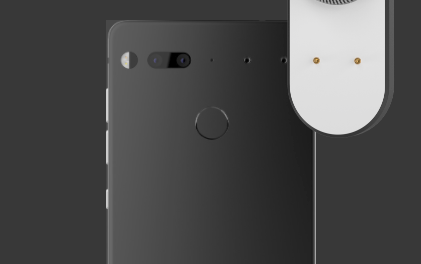 I've now had a chance to play with the Essential smartphone but, because of my travel schedule, I'm not quite ready to write my review. So, here is the "essential" info on this high-end new phone. And if you're looking for a review, here are several to chose from.  And here is my one minute CBS News Radio segment about the phone:
hhh
Essential info about the Essential
It's from a company founded by Andy Rubin who is regarded as "the father" of Android
It has virtually no bezel so it's 5.7 inch screen fits into a relatively small body
It supports an optional 360 degree VR camera that attaches to the phone's magnetic mount with the phone supplying power to the camera.
It costs $699 and doesn't come with a headphone jack, but there is a dongle for those who want to use a standard headphone or earbuds.
And here are the phone's specifications from the Essential website
Dimensions:
Height: < 67mm
Width: < 32mm
Thickness: < 12 mm (body)
Weight: < 35grams
Audio:
Microphone: 4x microphones in 3D, ambisonic tetrahedral arrangement
Dual Cameras:
Sensor Resolution: Dual 12MP fisheye imagers
Lens aperture: f1.8
FOV: 210° (each)
Video Resolutions: 360° UHD (3840 x 1920) at 30fps
Ports:
60GHz Wireless, SuperSpeed USB
2x accessory power pins