By Andrew Gilbert
Correspondent
Posted: 02/22/2013 04:41:27 PM PST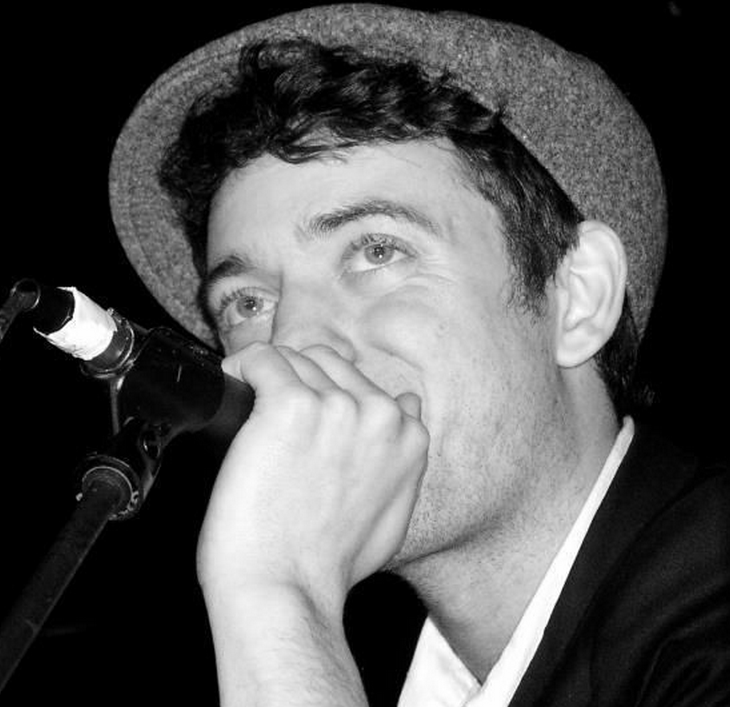 For the past year, Will Magid has regularly ruled the dance floor at Café Du Nord, turning the venerable venue into San Francisco's most cosmopolitan nightspot.
Now the Palo Alto-raised trumpeter is introducing his World Wide Dance Party to his old stomping grounds with his first South Bay foray, headlining an interlaced triple bill Friday at Club Fox in Redwood City featuring the Will Magid Trio, the great Nigerian bassist Babá Ken Okulolo and the roots reggae combo Rafa.
Magid's trio, his primary musical vehicle, features keyboardist Kevin Wong, a compatriot since their days in the Gunn High School jazz band, and Afrolicious drummer Paul Oliphant. With Magid adding an array of samplers, loops and vocals to his trumpet work, and Wong playing left-hand bass on organ and right-hand melodic lines on Moog, the trio delivers the punch of a band twice its size.
"The trio is an exploration into blurring the elements between live and electronic dance music," says Magid, 26, who notes that the evening is sponsored by Amnesty International USA to raise awareness about protecting children from the global arms trade. "We'll play with some dance tracks, and sometimes we'll play acoustic, and sometimes we'll toggle between the two and play with the textures."
More impressive than the size of its sound is the breadth of the trio's aesthetic vision, which encompasses Afro-Cuban grooves, Balkan brass flurries, jazz improvisation, and Afrobeat blasts, mixed liberally with electronica textures. Magid's music reflects his global array of influences, and his training as an ethnomusicologist at UCLA.
"I've always been looking to connect different dots, and UCLA was very effective at focusing on connections between West African music and blues, rock and jazz," Magid says. "These currents are so deep, it gives you so much freedom to explore."
Magid traces his fascination with connectivity to a childhood immersed in cutting-edge technology. The son of noted high-tech journalist Larry Magid, he grew up surrounded by innovators and their gear.
"There were always different technologies in our house," he recalls. "I was a total gamer, and I was always testing different gadgets and electronics and games my dad brought home. The music was often really interesting, and I paid attention to how you could get a sense of telling a story with music and sound."
He started playing trumpet in fifth grade at Palo Verde Elementary School, and his interest in the horn really took off when a cousin bought him a copy of the epochal Miles Davis album "Kind of Blue." By high school, his passion for jazz had expanded to funk and ska, while Mark Farina's "Mushroom Jazz" compilations opened his ears to acid jazz's blend of new-school beats and old-school boogaloo.
Heading off to UCLA in 2004, Magid followed his passion for music to Ghana, where he spent six months soaking up information. He even toured with the Ramblers International Dance Band, a pioneering high-life ensemble from the 1960s that was still led by founder Jerry Hansen.
He credits Babá Ken Okulolo with opening doors to the West African scene. They connected through Okulolo's son, who also was studying ethnomusicology at UCLA.
A versatile master who has collaborated with Nigerian giants such as Afrobeat patriarch Fela Anikulapo Kuti, highlife star King Sunny Ade, seminal drummer Tony Allen and the influential Afro-rock group Monomono, Okulolo has been a force on the Bay Area scene since settling in the East Bay in 1985. He saw a kindred spirit in Magid and has played a central role in making the World Wide Dance Party such a success.
"He's very open minded, and that drive has taken him to countries where his interests run deep," Okulolo says of Magid. "Very few musicians of his age group are interested in really going to the roots. If you listen to his stuff, you can identify where he's coming from and where he's going.
"That's my kind of person, who I am as well. I like to approach music from all different angles."
After graduating from UCLA, Magid spent time leading a 15-piece Afrobeat band in Southern California, an endeavor that quickly sapped his limited funds. Hitting the road as a keyboardist with the Boston indie rock band Mount Auburn, Magid ended up moving to San Francisco, drawn to the city's burgeoning dance music scene.
Magid continues to make new connections. On March 21, his trio opens for the great New Orleans trumpeter Kermit Ruffins and the BBQ Swingers at Oakland's New Parish. And he recently launched TuneAtlas with Adam Bernstein, an interactive website designed to introduce children to music from around the world. Magid's doing pretty much the same thing at his World Wide Dance Party, though the events are geared more for adults than kids.
"In the course of a night, I might sample a song by Cab Calloway or Boban Markovic from Serbia, a Dave Guetta drum beat or a tune by Mulatu Astatke from Ethiopia," Magid says. "One thing I picked up early from electronic dance music is that when you have people dancing, and there's a vibe that makes them feel good and sexy, their bodies and minds are open."
will magid's world wide dance party
When: 8:30 p.m. Friday
Where: Club Fox, 2223 Broadway St., Redwood City
Tickets: $20, 877-435-9849, www.clubfoxrwc.com