Tech resources for before and after an earthquake
Parts of the San Francisco Bay Area were rocked by a 6.1 earthquake centered near Napa. For ongoing coverage tune into San Francico's all-news KCBS radio on air (740 AM or 106.9 FM or online.
Information resources
For general earthquake information, visit the USGS website. The City of Napa's website is being updated regularly with information affecting that community.
Earthquake.gov provides good general information on what to do before, during and after an earthquake.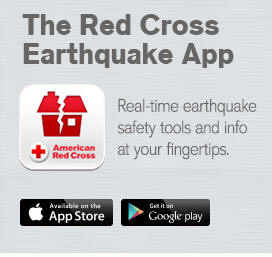 The American Red Cross has an Earthquake App for iOS and Android with alerts and notifications when an earthquake occurs with tips to prepare your family and home, find help and let others know you are safe even if the power is out. Unlike your desktop PC, you may be able to use your smartphone immediately after an earthquake, so it's a good app to have.
Phones
FEMA urges area residents to use phones only for emergencies. Send text messages if possible.
If you have a landline, make sure you have at least one corded (not cordless) phone, which will work as long as the phone service works even if the power is out.
Of course, there is always the possibility that any communications systems will also fail during a quake or other disaster and that includes landlines, cable lines and even cell phones (which depend on land-based stations) so always keep a portable radio handy with fresh batteries.
Important things to have
Obviously batteries and flashlights are important to have on hand. It's a good idea to have at least one flashlight that can be powered by a crank or pull-string so it will work even if the batteries are dead.  The $20 Solar Wind n Go has a crank and a solar recharging system. There are also solar and hand-crank radio and LED light combinations.
Also, it's a good idea to keep your cell phones charged and have one or more portable rechargeable phone chargers on hand. These are basically backup-batteries that can keep a phone or tablet going long after the internal batteries have died. If you want one with maximum staying power, consider the Jackery Giant. It's bulky but it has dual output ports and 12,000mAh for lengthening mobile device battery life up to 500% for smart phones.There is also an LED flashlight that's rated to last upto 700 hours.
An "uninterruptible power supply" (UPS)  can keep computers and other devices running for at least a few minutes after a power outage.  f you have a laptop, keep it  fully charged but also use a UPS to power up an Internet cable modem or DSL device, router and phone adapter so you can access the net and make Internet phone calls.
If your power goes out because of a quake or for any other reason, try to unplug TVs and electronics so they won't be damaged when the power comes back on if there is a power surge. The risk is small (so don't stress over it if you're not home) but if convenient, it's worth doing.