Places to donate to support Harvey relief efforts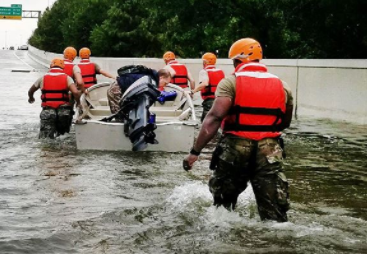 As soon as I heard about the disaster in Texas, I asked my Facebook friends in the region to recommend charities. Here are some they recommended. These links have been vetted by me to reach these legitimate charities, but — in general — be careful about clicking on links to donate, especially if they come via email. There are scam artists who try to take advantage of our generosity in times of crisis by setting up realistic looking fake charity pages. Be careful
Texas Search and Rescue: TEXSAR: Texas Search and Rescue has been a significant leader in disaster response and recovery in the great state of Texas for more than a decade. TEXSAR serves all citizens of Texas and deploys at the request of local and state law enforcement, fire service and emergency management agencies, the Office of the Governor, and relief organizations. During 2016, TEXSAR responded to call-outs 48 times. O
Center for Disaster Philanthropy: "While we are sensitive to all disasters, to have the greatest global impact, we take a systematic, highly targeted approach to the disasters we cover."
The Red Cross (please designate Hurricane Harvey relief — you can also find local blood drives on this page)
Austin Disaster Relief Network: ustin Disaster Relief Network (ADRN), a nonprofit 501(c)(3) organization, is comprised of over 175 Greater Austin churches and thousands of trained volunteers bringing hope into crisis. ADRN's network enables and empowers church members to organize, prepare, mobilize, and respond quickly in the event of disaster, great or small.  Now aiding victims in Houston.
The Salvation Army: The Salvation Army is ready to provide physical, emotional and spiritual care to survivors and relief workers. Salvation Army disaster teams from across the country are mobilizing and, even after disaster response efforts are over, The Salvation Army will remain in communities impacted by this terrible storm, supporting long-term disaster recovery efforts and providing ongoing assistance to those in need.
United Way: As Hurricane Harvey wreaks havoc on homes and communities across Southeastern Texas and Southwestern Louisiana—producing up to 50 inches of rain in some areas—United Ways across the region are helping families face devastating losses from the historic flooding with an eye toward long-term recovery.
Jordan International Aid: Sends doctors, nurses and other volunteers to provide medical aid.
Animal rescue
Best Friends Animal Society. "Every penny of your gift today will go toward recovery efforts to help reunite pets with families, help animals turned into shelters find homes, and help Houston and Florida area rescue groups and shelters rebuild and recover." Unlike some animal shelters, this group rescues and doesn't kill animals.
Austin Pets Alive House: Helping with Houston pet evacuations
Recommendations from the New York Times
The New York Times has listed some additional places worthy of your donations.