Motorola and Hasselblad Team Up with 10X Zoom Phone Camera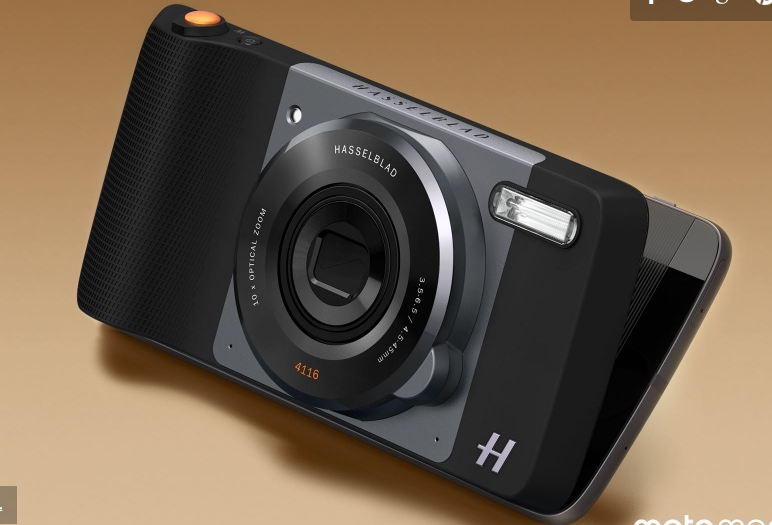 Most people these days are more than happy with their cell phone cameras, but some of us still carry around digital cameras because of better lenses, better sensors and — very important — optical zoom.
But now Motorola, a subsidiary of Lenovo, has a smart phone with an optional snap-on camera with a 10x zoom. And that camera is from Hasselblad — a legendary high-end camera maker who's camera was used by astronaut Buzz Aldrin to snap a picture of his colleague Neil Armstrong on the moon.
The camera, called Hasselblad True Zoom, is one of Moto Mods that also includes snap on JBL speakers and an "Insta-Share" projector.
In addition to the zoom, the camera has a 12 megapixel sensor, a Xenon flash and allows you to shoot in
RAW format to give photographers a great deal of flexibility when it comes to lighting and other controls after the picture has been shot.

Listen to Larry Magid's 1-minute CBS News segment on the new camera

Hands on
I was at the IFA trade show in Berlin where the camera and phone were unveiled at a Lenovo press event and had a chance to play with the camera and loved that you use it pretty much like a standard digital camera with a shutter button and zoom control where you would expect them to be. The zoom definitely improves the quality of close-up pictures.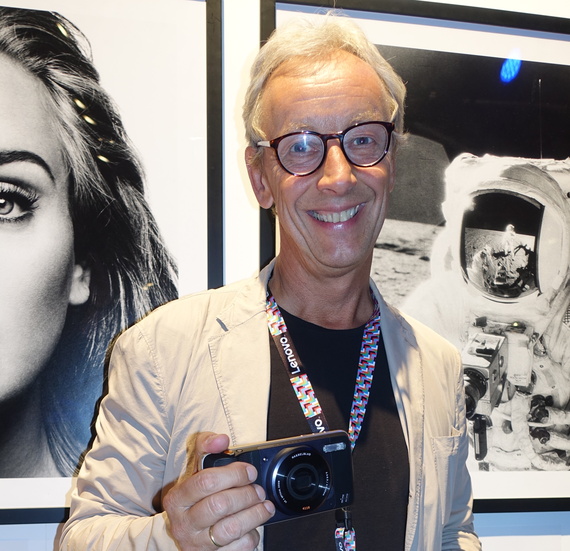 Hasselblad CEO Perry Oosting with the new Motorola Mod camera
Aside from its $299 price tag, my biggest issue with the camera is that it's one more thing to carry around and, when attached, makes the phone a bit bulky which strikes me as sort of defeating the purpose and convenience of a camera phone. The good news is that, because it's a phone, any picture you snap can be immediately uploaded to a social media service or shared via email. Of course there are numerous digital cameras that can transmit images to a phone for uploading, which strikes me as a preferable solution in many cases.
Specifications (from Motorola)
Compatible phones
Moto Z Droid, Moto Z Force Droid, Moto Z Play Droid
Dimensions
152.3 x 72.9 x 9.0 – 15.1 mm
Weight
145g
Sensor resolution
12MP
Video resolution
1080p Full HD at 30fps
Mics
2
Sensor type
BSI CMOS
Sensor size
1/2.3-inch
Pixel size
1.55 um
Aperture
f3.5-6.5
Zoom
10x optical/4x digital
Focal length
4.5-45 mm (25-250mm 35mm equivalent)
Macro
5cm @1x – 1.5m @10x
Flash
Xenon flash
Flash modes
Auto, on, off
Image stabilization
Still: OIS Video: EIS
ISO equivalent
Auto, 100, 200, 400, 800, 1600, 3200
Capture modes
Photo, panorama, video, professional, night landscape, night portrait, sports, day landscape, back light portrait
Focus modes
Manual focus: select focus ROI Focus lock
Pro mode
Focus, white balance, f-stop, ISO, exposure
White balance
Auto, incandescent, fluorescent, sunny, shade
Color effects
Color, black & white
Red eye reduction
Auto
File format
Still: JPG, DNG (RAW) Video: MPEG4
Storage
Internal phone: 32GB-64GB microSD phone: up to 2TB Cloud: Unlimited via Google Photos
Battery life
Phone dependent
Connectivity
Phone connectivity: 4G/LTE, Wi-Fi
GPS
Phone: Enhanced geolocation
Carrying case
Included