Holiday gift suggestions & reviews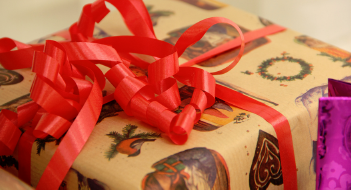 Tech Gifts are expected to be extremely popular this year but sometimes it can be tough to find just the right one. Below are some of my favorites along with links to reviews from CNET, Engadget and other tech sites I respect.
General advice:  Surprises are great but it's usually a good idea to do a little homework to find out what the person wants. People tend to be pretty picky about their technology. An Apple fan might not appreciate a Windows PC and vice versa. The same goes for smartphones and tablets. People often have strong feelings about what they prefer, so make sure you know before you buy.  And, just in case,  have a backup plan that includes the ability to return what you buy.
Tablets and E-readers are great.  If money is an object, consider a refurbished iPad or iPad mini or one of the relatively low cost Android tablets like the Nexus 7 ($229).  Amazon's Kindle Fire line of tablets are well priced, starting at $139 and even though they use a non-standard version of Android, there are plenty of great available apps. CNET has reviews of other tablets under $250
Here are tablet reviews from CNET  /   Engadget   / PCMag
A Smartphone will be used and appreciated every day but before you buy consider two important issues. First, people tend to be very picky about the type of phone they want — if they're deep into Android or just love iPhones, anything else might be a disappointment. And, second, as know, the biggest cost of a phone is the ongoing service and possible two-year commitment.  With a few exceptions, most models of phones have versions for each cell phone carrier but you have to make sure the phone you buy will work on whatever carrier the person wants to use.
Smartphone reviews:   CNET   /  PCmag  /  Engadget
Video streaming devices the enable you to watch Internet programming on your TV come in a lot of shapes, sizes and prices from the $35 Chromecast from Google to the  Roku (starting at $50) to the Tivo, some Blu-ray players Apple TV and all the game consoles. I'm partial to Roku because it offers a great deal of content at an affordable price but — eventually — the Google Chromecast should catch up and there's plenty of great content on Xbox One and other game consoles (though they're far too expensive to buy for this one purpose).
Streaming / digital video player Reviews from: CNET  / More from CNET   /  Engadget 
 Smart watches/wearable tech will get a lot of attention this holiday season but probably won't be jumping off the shelves. Frankly, the ones I've looked at just don't seem all the compelling and I tend to agree with Rachel Metz overview and review article, "So, far Smart Watches Are Pretty Dumb." Still, if you're so inclined, consider the $150 Pebble Smartwatch. It's cheaper than most of the competition and even though it has just a not-so-flashy monochrome screen, you can use it to read e-mail and texts, see incoming calls, run exercise and other apps and — believe it or not — tell the time. There are also fitness devices you can wear such as the Fitbit (various models) that measure steps, calories and even sleep
Wearable tech reviews from CNET /  Fitness device reviews from Engadget   Fitbit Force review from The Verge
Gaming consoles, including the new PlayStation 4 and Microsoft Xbox One make great gifts but they may be in short supply. Even though, at $499, it's $100 more than the PlayStation 4, I'm partial to the Xbox One because it's a versatile living room hub not just for gaming but for streaming video, Skype calls, fitness apps and more.
Reviews from CNET     PCMag (gaming gear)  Engadget
Digital cameras might not make as much sense as they once did because you have one built-into your phone. And it's true, cell phone cameras are getting pretty good. But they're still not as good as mid to high-end stand alone digital cameras.  I've been really happy with a couple of compact Sony cameras I bought last year — the RX 100 (expensive at $548) and the even more expensive RX 100 II ($749).  Even though these cameras are small enough to fit into your pocket, they produce stunning pictures thanks to an extra large sensor. And though the pictures aren't as stunning, I'm also happy with the even more compact and less expensive ($199) Sony Cyber-shot DSC-W690 with a 10 x zoom. Why do I like Sony? Well, besides the picture quality, I like the fact that you can charge the battery inside the phone with a standard Micro-USB connector — the same one used for many smartphones and other devices. That means that if you lose your charger or cable, you may already have a spare but — if not — you can pick one up almost anywhere for under $20.
One unique camera is the Sony DSC-QX series which is a digital camera that's shaped like a lens that you stick on the back of your smartphone. But before you buy one, read CNET's not-so-positive review and comments from Engadget.
Reviews of digital cameras from CNET /  Digital Photography Review  / Steve's Digicam /  PCMag
Other ideas
Smoke detectors are hardly the type of thing you'd expect to find under the tree, but Nest Labs new $130 Nest Protect is not your father's smoke detector.  Instead of an alarm, a calming voice tells you if there is an issue and if you have to silence it you can just wave your hand. And instead of waiting for it to beep to tell you the battery is low, it sends an alert to your smartphone.
A USB charger can make a very inexpensive stocking stuffer and could be quite welcome for those (like me) who sometimes misplace the one the came with their device or just want antoher for travel. Consider getting one that can charge two devices at once like the Ventev Ventev Wallport r2200 Charger, dual USB universal rapid charger ($15.65 at Amazon with free shipping). It works with both Android and Apple devices (cables sold separately) and it puts out enough juice for a tablet as well as a phone.  If it's just for a phone, consider the less expensive Motorola Eco Friendly Dual  port charger ($6.99) or a dual port charger that plugs into your car's power port.
A USB mobile hotspot such as the MiFi or the Verizon Jetpack will be a welcome addition to a road warrior's toolkit to keep them online while on-the-go.  But before spending money on a dedicated device, see if the person's phone can be used for the same purpose. Either way there are usage charges that can be hefty so consider that along with the sale price.
 A case for just about any device — phone, tablet or laptop — may be well received, especially if it's a fashionable accessory. There are tons on the market starting at practically nothing and going up to, well, if you have to ask …. If it's for a phone or a tablet, you have to know the exact model. Laptop cases pretty much go by screen size.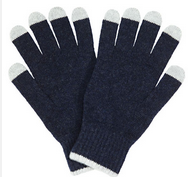 Gloves are a must if you're outdoors in a cold climate but what do you do if you have to use a touchscreen device while you're in the cold.  No problem as long as you're wearing  Etre FIVEPOINT Wool Gloves with "contactwoven fingertips that don't get in the the way of the touchscreen. They cost £45 in UK money which is about $73 US. Oh, and there's the cost of having them shipped from Scotland so it's probably cheaper to buy them on Amazon for $49.99.
You can't have too much storage and now you can get a really small hard drive that stores lots of stuff for not much money.  Western Digital, for example, sells a 1 TB little USB drive for $89 and a 2 TB version for $130 that come in all sorts of colors.  That's a lot of storage, even for those of us with thousands of digital photos to hold on to.  I have all my crucial data backed up to a small drive like this that I store in a fire proof safe — just in case.
Micro finance — the gift that keeps on giving.  One gift that I often give to young people in my life is an investment in either Kiva or MicroPlace. These are microfinance projects that enable you to invest as little as $25 in a project, typically in the developing world. With either project, you (or the person you give the gift to) get to decide where to invest the money. They're not giving it away — they'll get it back when the loan is repaid. Your risk of losing money is extremely low. Both Kiva and Microplace say they have better than a 99% rate.  Microplace, which is owned by Paypal, typically pays interest on most investments. Kiva is a non-profit organization that doesn't pay interest but works very hard to make sure your money is safely and well invested. You can purchase a Kiva gift card here. Microplace doesn't offer gift cards but adults can create accounts and designate a beneficiary. 

For those with money to burn, consider the " limited edition smartphone, Antare" from Lamborhini.  While it is cheaper than the company's automobiles, it will still set you back $4,000.  Its "quad-core 1.5 GHz processor, 2 GB of RAM, 32 GB of internal memory and a MicroSD card slot with up to 32 GB (included)" justify a few hundred dollars of its price tag, but you're mostly paying for  the "body's smooth contours and strict lines, the elegant finish of details and the combination of metal and leather, typical of luxury iconic sports cars, – everything is produced with the highest taste required of each model that comes to the market under the Tonino Lamborghini brand."
But this $4,000 watch is cheap compared to the products described in the Forbes post, Tech Gifts for Billionaires. Here you can read about a $45,000 TV, a $35,000 + $500 per movie home cinema, a $6,000 tablet, an $82,000 amplifier, $5,500 headphones, a $150,000 turntable and other more gifts that you probably can't afford.
More gift guides
CNET's 2013 Holiday Gift Guide
CNET has put together a comprehensive guide that includes tablets, smartphone, PCs, gaming devices, cameras, portable audio, peripherals and more.
Huffington Posts's 12 must have gadget gifts for the holidays